2021/12/24
今年もお世話になりました。来年もよろしくお願いします。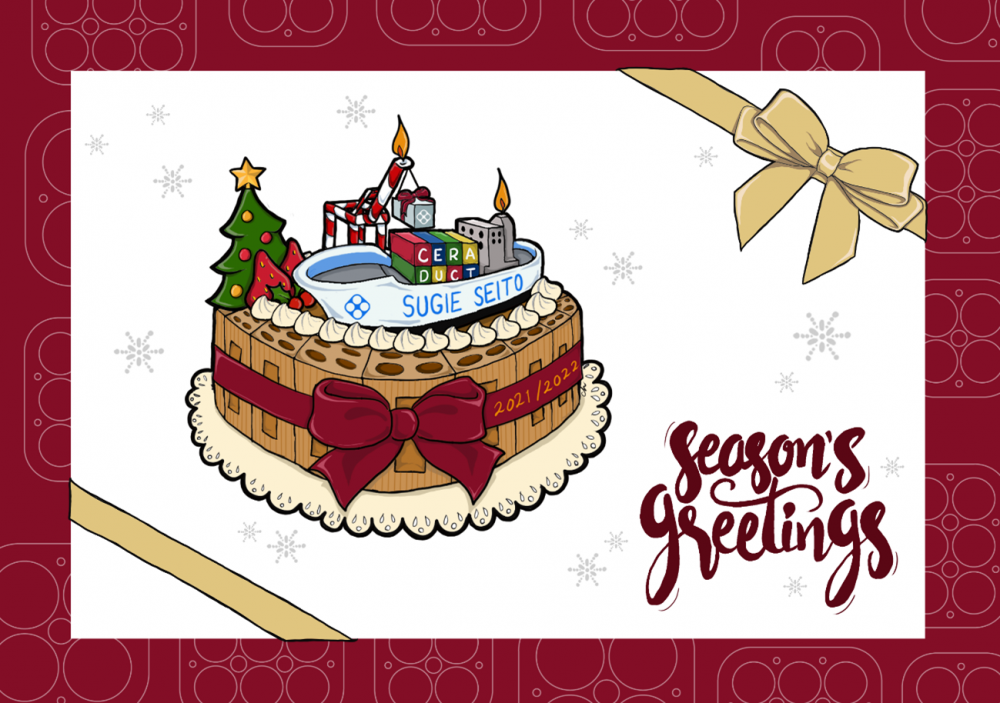 この年末年始に、皆様にたくさんの喜びと幸せが訪れますよう、社員一同心からお祈り申し上げます。
皆様の変わらぬご支援に心より感謝申し上げます。
年は大変な年でしたが、非常に実りの多い年であり、私たち全員に良い経験をもたらしてくれたと思います。このような厳しい状況の中でも、海外に製品を供給することができたことを嬉しく思っています。
来年が成功と富に満ちた年になりますように、一緒にお仕事できることを楽しみにしています。
良いお年をお迎えください。
We thank you for your cooperation this year.
Looking forward to working with you again next year.
Our whole team wishes you a lot of joy and happiness during this holiday season.
We highly appreciate your continued support.
2021 might have been a hard, but very fruitful year that brought good experience to all of us. We are glad that even during this hard condition, we still managed to supply our products to overseas.
May the upcoming year be filled with success and wealth, and we look forward to further working relationship.
Have a happy and prosperous New Year!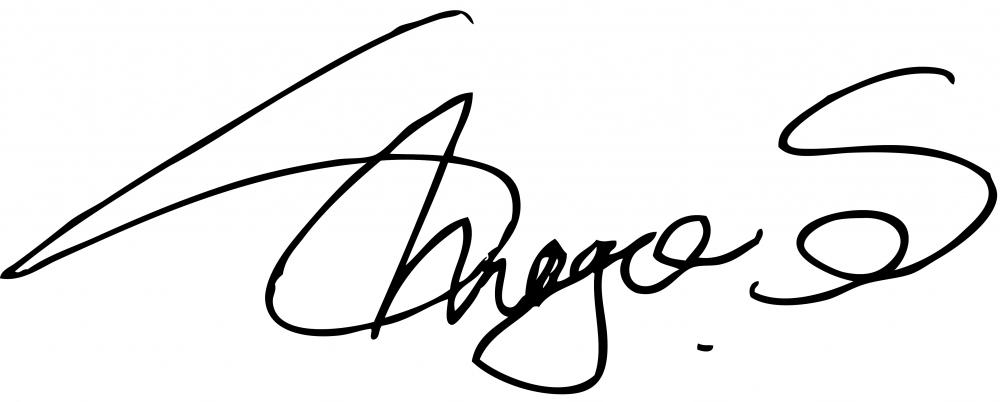 SHOGO SUGIE
President & CEO
2021/10/18
とこなめ陶の森 資料館リニューアルオープン(10月16日)
とこなめ陶の森 資料館は、国指定重要有形民俗文化財をはじめ、平安時代末期から続く常滑焼の窯業に関する貴重な資料が数多く収蔵・展示されている施設です。
今回、資料館のリニューアルオープンに際して、常滑焼の一つとしてセラダクトを展示していただきました。実はセラダクトも古くから常滑で作られ人々の暮らしを支えてきた常滑焼の1つなのです。普段は地中に埋まって見えなくなってしまう弊社製品を、じっくりと観察できるチャンスです!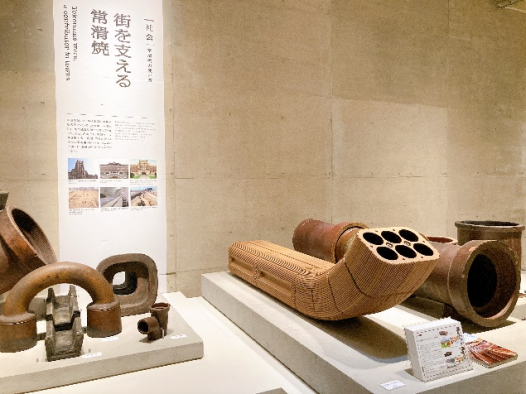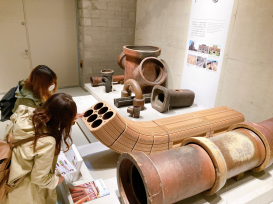 リニューアルオープン後、さっそく見学に行ってきました。急須のような小さく繊細なものから、大きな甕や土管まで、常滑ならではの焼き物をたくさん見ることができ、常滑焼の技術の素晴らしさを感じることが出来ました。これからも常滑焼の名に恥じない製品を作っていこうと改めて思いました。
皆様もお近くにお越しの際は立ち寄られてみてはいかがでしょうか。
とこなめ陶の森
https://www.tokoname-tounomori.jp/
開館時間:午前9時〜午後5時
休館日:月曜日(祝日の場合は翌日休み)、年末年始
入館料:無料
所在地:〒479-0821 愛知県常滑市瀬木町4丁目203番地
Renewal opening of the Tokoname Pottery Forest Museum (October 16, 2021)
The Tokoname Pottery Forest Museum is a facility that collects and displays many valuable materials related to the Tokoname ware pottery industry that has continued since the end of the Heian Period (794-1185), including nationally designated important tangible folk cultural properties. Tokoname is the area where Sugie Seito is located, and the ceramic industry has been prominent for a long time.
On the occasion of the reopening of the museum, CERA-DUCT was displayed as one of the Tokoname ware items. In fact, CERA-DUCT is one of the Tokoname ware that has been made in Tokoname since a long time ago and has supported people's livelihood. This is a great chance to take a closer look at our products, which are usually buried underground and out of sight!
We visited the museum immediately after the reopening. We were able to see a lot of Tokoname's specialty pottery, from small and delicate items like teapots to large jars and clay pipes, and we could feel the excellence of Tokoname ware techniques. It reminded us that we should continue to make products that do not fail to live up to the Tokoname ware reputation.
If you are in the neighborhood, please stop by and take a look.
Tokoname Pottery Forest
https://www.tokoname-tounomori.jp/
Open hours: 9:00 a.m. - 5:00 p.m.
Closed: Mondays (if Monday is a national holiday, the next day is closed), year-end and New Year holidays
Admission: Free
Location: 4-203 Segi-cho, Tokoname, Aichi 479-0821, Japan
2021/09/01
展示会情報@InterAirport South East Asia Exhibitionのウェブサイト
シンガポールで開催されるInterAirport South East Asia Exhibitionのウェブサイトにて杉江製陶の詳細情報やプレゼンの動画が公開されました。本展示会は本来今年の10月に開催される予定でしたが、新型コロナウイルスの影響のため、2023年3月に延期されると決まりました。下記の写真は前回の展示会の様子です。まだ少し先になりますが、皆さんも楽しみにしていてください!
Company Introduction at InterAirport South East Asia Exhibition's Website
Sugie Seito's company introduction and presentation video has been posted on the InterAirport South East Asia Exhibition's website that will be held in Singapore. This exhibition was originally scheduled to be held in October of this year, but due to the effects of the new coronavirus, it has been decided to be extended to March of 2023. The following photos were taken at the last exhibition. It's still a bit in the future, but I hope you're all looking forward to it!
▼InterAirport South East Asia Exhibition's Website▼
https://www.interairport-southeastasia.com/en-gb/Exhibitor-Directory/Exhibitor-Details.org-848531a3-0058-4623-a395-21e552581d68.html#/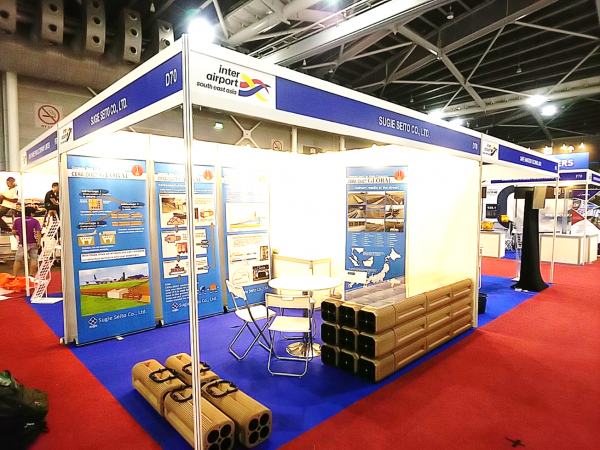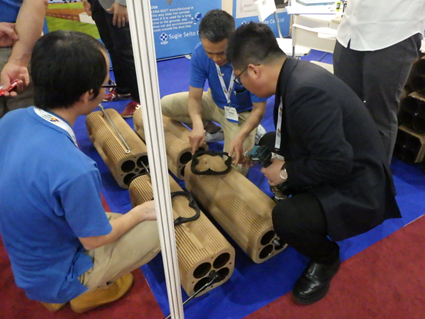 2021/06/23
納入現場紹介@バングラデシュ
ダッカ空港のあるバングラデシュでは現在雨季の為、降水量が多く、現場のベース状態が良くない日が続いているそうです。そんな状況でもCERA-DUCTの施工は順調に進んでいます。天候に左右されないCERA-DUCTの施工方法により工事の進捗に貢献できているということが大変嬉しく思います。
Supply Site Introduction at Bangladesh
Bangladesh, where Dhaka Airport is located, is currently rainy season with heavy precipitation, and the ground base conditions at the site are not good. Even under such circumstances, the construction of CERA-DUCT is progressing smoothly. We are very happy that CERA-DUCT's construction method, which is not affected by weather conditions, is contributing to the progress of construction.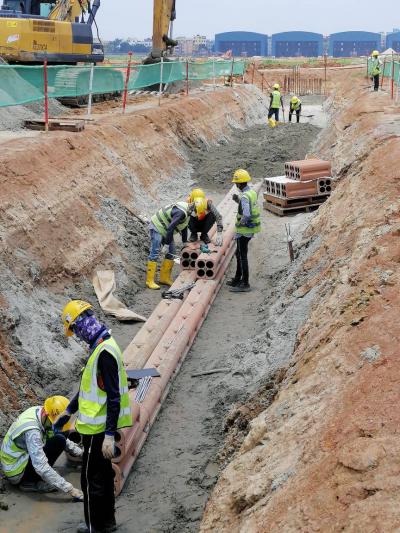 2021/06/17
納入現場紹介@パプアニューギニア
昨年パプアニューギニアのナザブ空港の現場に納品したCERA-DUCT の施工が始まっています。日本から約4,800kmと、遠く離れた土地で製品を使用していただいていることを想うと大変感慨深いです。現場に伺うことが難しい状況ですが、私達の気持ちは製品と共に現地にあります!
Supply Site Introduction at Papua New Guinea
The construction of CERA-DUCT, which we supplied last year, has started at the site of Nazab Airport in Papua New Guinea. We are deeply moved when we think about the fact that our products are being used in a land as far away as 4,800 km from Japan. It has been difficult to visit the sites for us, but our hearts are there with the products!
2021/02/17
バングラデシュ納品
バングラデシュのダッカ空港へ昨年出荷されたセラダクトの第一便が納品されました。今後約2年かけて出荷されます。コロナ禍ということもあり、普段とは段取りが異なることも多々ありますが、無事納品することが出来ました。今後も引き続き、慎重かつ柔軟な対応に努めて参ります。
Supply result to Bangladesh
Last year CERA-DUCT has been shipped and recorded as the first supply for Bangladesh's airport, Hazrat Shahjalal International Airport.
The shipment will take about two years to complete. Due to COVID-19 pandemic, the scheduling was different from the usual, but we were able to supply CERA-DUCT safely. We will continue our efforts to be careful and being flexible to any conditions in the future.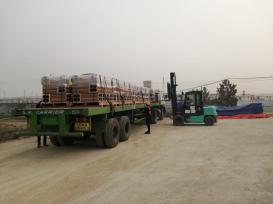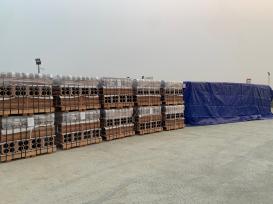 2021/01/06
2021